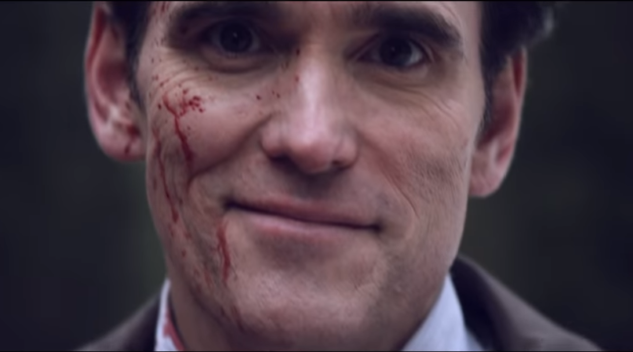 The House That Jack Built premiered at Cannes Film Festival last night where there were over 100 walkouts.
Dir: Lars von Trier; Starring: Matt Dillon, Bruno Ganz, Riley Keough, Uma Thurman, Siobhan Fallon Hogan, Sofie Gråbøl.
So, Lars Von Trier returns to Cannes seven years after his ban from the festival.
While one audience member added: "I've just walked out of Lars von Trier's premiere at Cannes 2018 because seeing children being shot and killed is not art or entertainment".
The House That Jack Built - Official Trailer 2018 from Zentropa Productions on Vimeo.
I've never seen anything like this at a film festival. There are several graphic scenes of misogynistic torture and mutilation in The House That Jack Built - although I've seen a lot worse in supposedly mainstream USA thrillers - but I suspect that more people will be put off by the lengthy seminars than they will by the sadism and gore.
The House That Jack Built is a slasher movie that depicts a serial killer's quest to find art within murder, which you can already guess is going to lead to plenty of gross-out scenes. Judging by the latest trailer, the project - debuting in the shadow of the Danish director's equally disturbing projects like Melancholia, Antichrist, and both Nymphomaniac films - looks to uphold his reputation as one of the most notorious storytellers working today. The feature is set during the 1970s and follows the killer through the process of conducting five murders that shape his "coming of age" experience.
He is known for his graphic and controversial films. We experience the story from Jack's point of view.
Nonetheless, those who remained in their seats until the very end met von Trier with a "10-minute standing ovation", similar to that received by Spike Lee earlier in the day for his film, BlackKklansman. Let us know what you think. Time and again we've heard about movies that have left audience members fainting in the aisles but have actually turned out to be considerably tamer than first believed. The House That Jack Built is an uncompromising, barbaric, distressing watch, and one very hard to stomach.