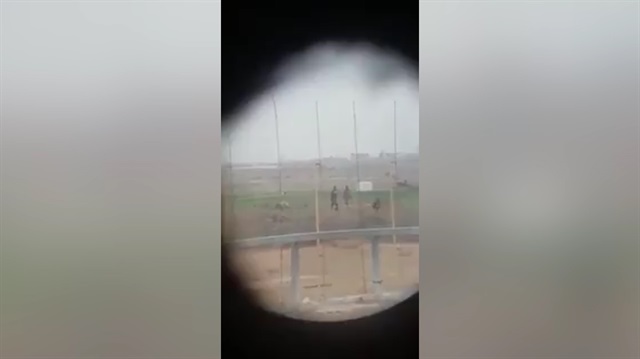 Thousands of Palestinians converged along the Gaza Strip's eastern border with Israel for the third Friday of ongoing protests against Israel's decades-long occupation.
Israeli troops have shot dead 31 Gaza Palestinians and wounded hundreds since the protests began, drawing worldwide criticism of the lethal tactics used against them.
The protests since March 30 have posed a challenge to Israel, which has dismissed criticism of its use of live fire, saying its rules of engagement are necessary and will not change.
On Friday, many demonstrators constructed in 5 tent camps located a few hundred meters (yards) from the border fence.
Palestinians hurled stones and burning tyres near the frontier fence, where Israeli army sharpshooters are deployed.
The military said soldiers were responding "with riot dispersal means and are firing in accordance with the rules of engagement".
Palestinians are still streaming to tent camps along Gaza's border with Israel for its third of what are to function as mass protests before mid-May.
The marches are organized by Gaza's Islamic militant Hamas, but turnout is also being driven by desperation among the territory's 2 million residents.
The marchers are protesting against the blockade, but are also asserting what they say is a "right of return" of Palestinian refugees and their descendants to what is now Israel.
Palestinian medical officials said Israeli troops opened fire on the demonstrators, killing one and wounding 220.
Israel accuses Hamas, the Islamist movement that runs Gaza and with whom it has fought three wars since 2008, of using the protests as cover to carry out violence. Rights groups say military's open-fire orders are unlawful.
Hundreds flocked to one of 5 teams near Gaza town, stepping on a big flag. That day will mark the 70th anniversary of Israel's establishment - an event Palestinians refer to as the "Nakba" or "Catastrophe".
Dozens of Israeli flags were being burned in Jabalia in northern Gaza and hundreds of Palestinian ones were held aloft.
Yair Lapid, the leader of Israel's centrist Yesh Atid party, called Hamas a "despicable terror organization" and accused it of exploiting civilians.
Gaza has endured a border blockade by Israel and Egypt since Hamas overran the territory in 2007, a year after winning Palestinian parliament elections.
Human rights groups have reiterated that soldiers can only use lethal force if they face an apparent imminent threat to their lives.
Israeli media reports have said Egypt, one of only two Arab countries to have signed a peace treaty with the Jewish state, had been negotiating with Hamas to seek to calm the crisis, but there has been no confirmation.
The Israeli rights group B'Tselem said Friday that open-fire policy must not be dictated by worst case scenarios, such as a feared mass breach of the border. It has said that soldiers fire live bullets as a last resort, in a "precise and measured manner".
The five ex-snipers in Friday's statement were identified by name.