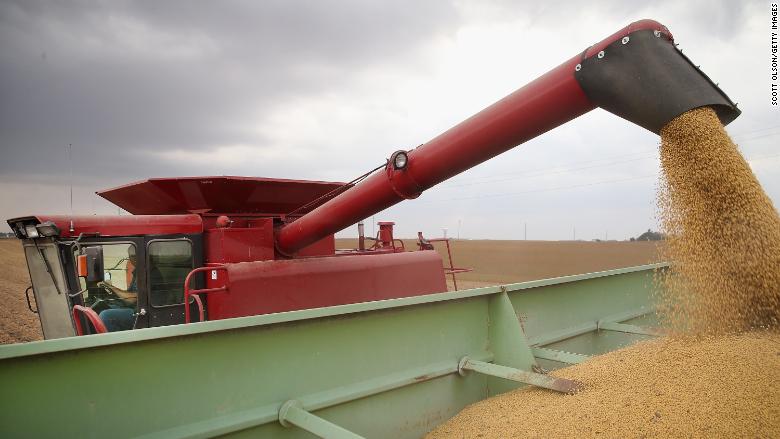 The Dow Jones Industrial Average had its biggest point gain since 2008 on speculation that possible trade talks between the US and China will avert a trade war.
Stocks are opening modestly higher on Wall Street following a huge gain the day before, led by more gains in technology companies and banks.
Investors were encouraged by signs that the US and China are open to negotiating to avert a trade dispute. The Dow is up 224.13 points or 0.9 percent at 24,426.73, the Nasdaq is up 16.64 points or 0.2 percent at 7,237.18 and the S&P 500 is up 13.52 points or 0.5 percent at 2,672.07. Japan's Nikkei 225 Index surged up by 2.7 percent, while Hong Kong's Hang Seng Index advanced by 0.8 percent.
On the other hand, significant weakness remains visible among gold stocks, as reflected by the 1.5 percent drop by the NYSE Arca Gold Bugs Index.
Facebook's stock approached its worst month since May 2013, increasing 0.42 percent by the end of trading Monday after shares fell by up to 6.5 percent in the past 10 days. Tuesday represented the biggest one-day percentage decline for both the Dow and the Nasdaq since February 8, but only the biggest for the S&P since Friday.
The S&P 500 climbed 3 points, or 0.2 percent, to 2,663. Facebook Inc. was a noticeable underperformer, ending just slightly higher after the Federal Trade Commission said it has an open, non-public probe into the company's privacy practices.
Technology companies recouped some of the sector's big losses last week.
After initially showing a lack of direction, stocks have moved mostly higher over the course of the trading session on Tuesday.
Meanwhile, a top trade negotiator for South Korea said the nation has agreed to further open its auto market to the USA as the two countries prepare to amend their six-year-old trade agreement.
Bond prices fell. The yield on the 10-year Treasury note rose to 2.84 percent.
Lowe's climbed 6.6 percent after the home-improvement retailer said Chairman and CEO Robert Niblock is retiring.
ENERGY: Benchmark U.S. crude added 25 cents to $65.80 a barrel in electronic trading on the New York Mercantile Exchange, while Brent crude, used to price worldwide oils, gained 28 cents to $69.80.
Brent crude declined 0.6 percent to $70.05 a barrel. Bank of America added 95 cents, or 3.3 percent, to $30.13. Microsoft jumped 5.4 percent. Wholesale gasoline lost 2 cents to $2.01 a gallon.
CURRENCIES: The dollar rose to 105.20 yen from 104.82 yen on Friday.
The Bloomberg Dollar Spot Index declined 0.4 percent to the lowest in five weeks.
Verona Pharma plc (NASDAQ: VRNA) shares were also up, gaining 41 percent to $22.90 after the company disclosed positive top-line data from Phase 2b clinical trial of RPL554 for the maintenance treatment of chronic obstructive pulmonary disease.