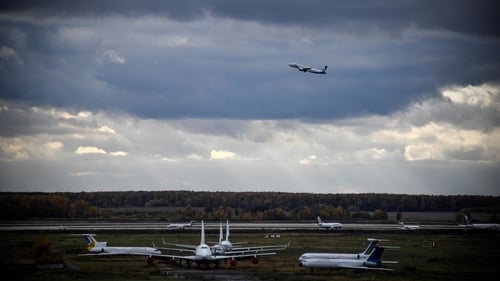 The TASS Russian news agency reported that fragments of the airliner have been found.
The Russian jet was heading for Orsk, a city close to the Russia-Kazakhstan border. Officials said all of the passengers aboard are believed to have been residents of the Urals.
Flightradar24 has also reported that it tracked the aircraft descending at 3.300 feet (1,000 metres) per minute some five minutes after take-off, before the signal was then lost. Witnesses told the news agency that they saw a plane in flames.
A woman from a nearby village said: "I felt a shock wave. the windows shook".
Russia's most recent high-profile plane accident came in December 2016 when a military transport plane carrying dozens of members of the Red Army choir to Syria crashed into the Black Sea. Earlier, the ministry said the area will be observed by drones.
Transport Minister Maxim Sokolov confirmed that there were no survivors. While the cause of the crash remains uncertain, the Investigative Committee of Russian Federation said officials have launched a criminal investigation.
Voronova identified the pilot as 51-year-old Valery I. Gubanov, who had 5,000 hours of flight experience, including 2,146 hours on the type of plane the crashed. Andrei Odintsov, the mayor of Orsk told Russian state television that six psychologists and four ambulances with medics were working with the relatives in the small airport.
The plane was ordered by Rossiya Airlines, a subsidiary of Aeroflot, but was put into storage during 2015-2017 because of the parts shortage.
The 65 passengers ranged in age from 5 to 79, according to a list posted by the Russian Emergencies Ministry, which did not give their nationalities.
The national Investigative Committee said on its website that it had opened a criminal case over alleged breach of aviation safety.