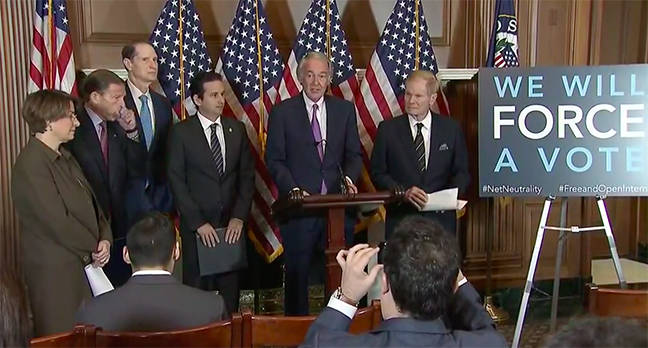 The bold, public move was in response to an equally audacious moment: on January 4, the FCC released its final rule to replace Obama-era protections with net neutrality regulations that would allow internet service providers the opportunity to charge more for services and access to websites as they saw fit.
The IA's statement was released a day after the FCC submitted their final order.
Sen. Claire McCaskill, a Democrat from Missouri announced Monday she will be the 30th co-sponsor of a bill that will use the Congressional Review Act to reverse the FCC's vote to dismantle the net neutrality rules.
The FCC's recent repeal of net neutrality rules is going to get a second look, thanks to Senate Democrats. People who bristle at government regulations cheered the end of these rules, enacted under Democratic President Barack Obama, since they'd imposed increased oversight of broadband traffic and kept internet service providers from blocking or slowing rivals' content. Last June, Mozilla reported that a survey it conducted with Ipsos found that 81% of Democrats and 73% of Republicans support net neutrality principles.
Those on the side of net neutrality argue that instead of restoring "internet freedom", these rules expose consumers. A tie vote would likely mean the deciding vote would be cast by VP Mike Pence, dooming the resolution.
If the vote passes in the Senate, the Congressional Review Act would also need to pass in the House before being signed by President Trump.
Given the huge majority of Americans who favor strong net neutrality standards, it isn't inconceivable that members of Congress would listen to their constituents instead of the arbitrary and unfounded arguments of the FCC and the big internet service providers.
Amid the harsh criticism of the repeal from consumer groups including Free Press, Pai on Wednesday pulled out of a planned appearance at this week's CES tech industry convention after reportedly receiving death threats. A group of state attorneys general immediately vowed to sue. In the days before the FCC's vote last month, the online giants took few overt steps to voice opposition to repealing the rules.
This specific resolution, which would overturn the Federal Communications Commission's unpopular December 14 decision to destroy Net Neutrality, will be introduced after the agency delivers the final rules to Congress in the coming weeks.