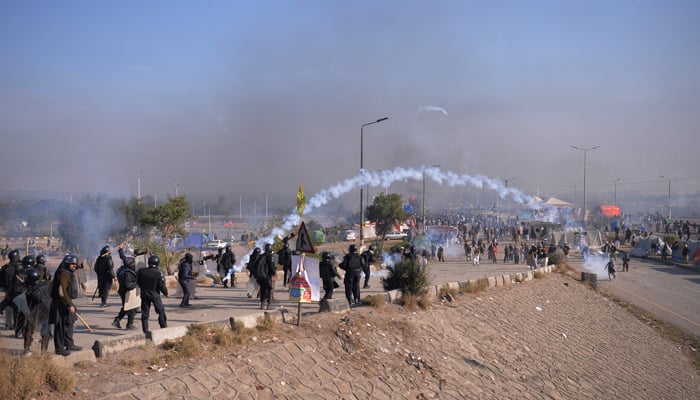 The protestors have been demanding that Pakistan's law minister Zahid Hamid resign over a hastily-abandoned amendment to the oath that election candidates must swear. A major highway has been blocked by the protestors leading to inconvenience for thousands of commuters.
The letter also highlights that the Army is not a force traditionally used to disperse crowds or protesters, adding that the terms of the military's deployment in the twin cities need to be clarified in keeping with orders passed by the Supreme Court and the Islamabad High Court earlier this week.
With the situation turning grim in Islamabad and violence spilling into other cities, the government's Interior Ministry issued a statement in the evening saying the army has been deployed to "control the law-and-order situation".
At least six people were killed and over 250 wounded as law enforcement agencies finally acted under court orders on Saturday to disperse protesters who had camped out at Islamabad's Faizabad Interchange for almost three weeks.
Video from the scene Saturday showed law enforcement forces carrying sticks and firing tear gas and rubber bullets at protesters.
The violence, which has spread to other cities, prompted a media blackout on Saturday and forced authorities to send in federal troops to support police.
Prime Minister Shahid Khaqan Abbasi chaired a consultative meeting on the Faizabad operation, which was attended by Gen Bajwa, director general of Interservices Intelligence Naveed Mukhtar, Punjab chief minister Shehbaz Sharif and interior minister Ahsan Iqbal.
Numerous protesters were armed with sticks or metal rods, and some held riot shields snatched from the police during the unsuccessful operation to clear the area.
Sitting on thatched mats or blankets, numerous protesters were reading the newspapers, whose front pages were dominated by news of the clashes on Saturday.
In a statement, the Army said the police "have not been optimally utilized to its full capacity" and cited a court order prohibiting the use of firearms to disperse the protest.
Later in the day, security forces appeared to face difficulty clearing the crucial intersection as more and more supporters joined protesters at the site.
"Pakistan's government called on the powerful military to deploy in the capital Islamabad overnight after deadly unrest broke out when police moved to dislodge an Islamist protest that has brought the city to a near-standstill".
At least 12 people were reportedly injured in skirmishes with police at Stargate and Nursery. Many of those injured are security personnel. AFP reported that at least 130 people were injured.
State Department's spokesperon Heather Nauret stated that U.S. is deeply concerned that Lashkar-e-Tayyiba (LeT) leader Hafiz Saeed has been released from house arrest in Pakistan. "The police failed to arrest leaders of the protest, and when trouble started to spill into other cities, they resorted to a controversial policy of blocking all live news channels and social media websites". The religious groups protesting belonged to the Barelvi sect of Islam that has strong ties to Sufism.