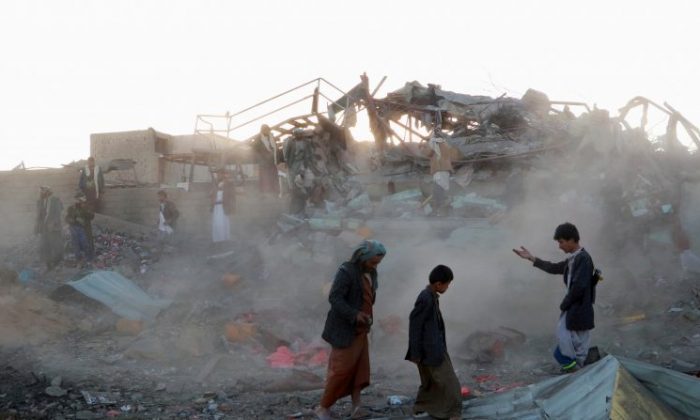 Saudi Arabia and its allies shut down Yemen's borders earlier this week after intercepting a ballistic missile fired by the Huthis near Riyadh airport on Saturday.
The United Nations, along with dozens of other aid groups, are raising alarm at the blockade imposed on Yemen by the the USA -backed, Saudi-led coalition there, saying Thursday it could lead to "the largest starvation the world has seen for many decades".
Yemen's national airline said on Sunday it still lacks the security permits needed to resume commercial flights, a day after the transport minister said some flights would be allowed as a nationwide blockade is eased.
Growing complaints about the humanitarian catastrophe in Saudi-blockaded Yemen have led the Saudi government to announce that the al-Wadea border crossing is being reopened.
A number of houses were also reportedly damaged in the strike.
The Huthis continue to control the capital Sanaa and much of Yemen's north. This follows another attack on October 30 when a missile was sacked from inside of Yemen at a Saudi army base in the Aseer province on the border between the two countries.
Al Masirah said the decision to threaten coalition vessels was taken after a meeting of naval officials who had discussed the possible response to the closure of Yemeni ports.
The Houthis have often made such threats against Saudi Arabia and its main coalition partner, the United Arab Emirates, although they have not so far demonstrated the capability to hit all the targets they mention.
The Yemeni government-held southern port of Aden reopened on Wednesday, but ports in Houthi-held areas are still closed.