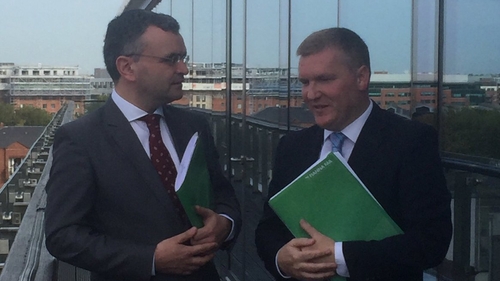 The vacant site levy will be increased to 3% in the first year and then 7% from the second year.
New house-building entity to boost construction.
1,300 additional teaching post in schools for 2018 - reducing the student teacher ratio to 26:1.
€1.83 billion euro will be spent on housing in 2018. An additional 500 civilians will also be hired into the force.
Health allocation includes additional 1,800 staff in frontline services across acute, mental health, disability, primary and community care sectors.
The prescription charge is to be reduced from €2.50 to €2.00 per item.
The Drugs Payment Scheme threshold will be lowered from €144m to €134m.
The Department of Health will get an increase in funding of €685 million, bringing their total budget to €15.3 billion.
The 2.5% rate of USC will reduce to 2%, and the ceiling for this new rate will increase from €18,772 to €19,372. Social welfare recipients will also receive a bonus payment of 85% this Christmas.
In addition, the threshold for the Family Income Supplement will rise by €10 a week for families with three children.
The Home Carer Credit is to increase by €100 in 2018 to €1,200 a year.
The Minister for Finance has defended his decision to reduce both USC rates and change tax bands so that fewer people will pay the top rate.
USC rate rated from 5% to 4.75%.
As well as that, Donohoe said that he would be establishing a working group to plan, over the coming year, the process of amalgamating USC and PRSI over the medium term.
The Earned Income Credit for the self-employed will rise by €200 to €1,150 a year.
Mortgage interest relief will be cut next year in a move that will affect about 300,000 homeowners. Reduced rate of 20 cent per litre on drinks with between 5g and 8g of sugar per 100ml.
Meanwhile, the long talked about sugar tax is expected to be announced today, however, it will probably not be introduced until spring of 2018.
€13 million increase in the Overseas Development Aid budget.